Effective Working Environments
These are the areas to focus on to create a more effective work place to support your business activities.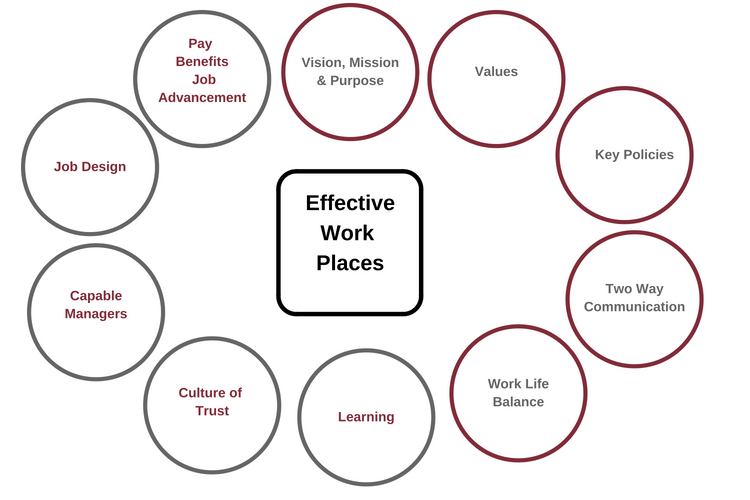 Have a Written Vision, Mission and Purpose
Because having a core purpose gives people a sense of identity and a clear understanding that guides all their work.
Vision – is a statement of what you would like to become – the ultimate goal in an ideal world
Mission – is a statement of how the vision will be accomplished including the key things your business does well and/or unique capabilities that set you apart from the others
Purpose – is the statement of why your business exists and should be described in such a way as it helps everyone focus on something bigger than themselves
Have Written Values
Because the sense of purpose and the set of values people operate by steer the culture of your business.  The culture says what 'we' are all about and affects every aspect of how the business operates and how the work gets done.  So, the values provide a template for the behaviours and standards you expect in the business.
Write Down Key Operational and HR Policies
Because this is how you help give your people more detail in the way they should deliver the important things and supports a consistent business wide approach.  They describe legal and other regulatory matters everyone should be aware of and abide by.  This is how you hire people who share your values and are a good organisational fit.
Ensure There is Two-Way Communication
Because not knowing what is going on generates uncertainty and a lack of feeling involved with the business, and the chance to provide input into work matters that affect us knowing we will be listened to is engaging.
Allow Work Life Balance
Because having the support, schedule and flexibility your employees need at work to effectively manage their work and personal/family responsibilities means less stresses outside of work that can seep into work time and become a distraction.
Give Opportunities for Learning
Because training your employees to do their job well is going to support your business success and encouraging learning and creativity, having enough task variety keeps us interested and encourages innovation.
Role Model a Culture of Trust
Because a workplace culture where managers and leaders are trustworthy, ethical, and seek employee input makes for an engaging workplace which is demonstrated to improve business productivity and profit.
Develop Capable Managers
Because capable managers are more aware of their impact on others, and the importance of giving recognition when an employee does a good job, dealing with issues early so they don't become corrosive and providing honest and relevant information to help employees do their jobs well.
Consider How Jobs are Designed
Because allowing employees to decide or have input into what their job involves, how it is done, and to be themselves while doing it is both highly motivational and engaging.
Provide Pay, Benefits and Opportunities for Job Advancement
Because having reasonable pay and benefits for jobs and adequate opportunities for advancement meets your employees' basic needs and prevents workplace dissatisfaction as well as motivating them to better performance.