Skills Plus – Apprenticeship Services
At the heart of FIESTA is a management service for apprenticeships. Many employers have found that the landscape of apprenticeships post-reform, has complexities and administrative hurdles.  Our Skills Plus initiative, offers micro, SME and large employers within the furniture and furnishings sector an affordable and simplified way to engage with apprenticeships, upskilling and retraining.
The Skills Plus team can help employers access government funding for apprenticeships, or for larger employers help them find training that can be paid for from their Apprenticeship Levy Digital account.  The government funding can be significant, for example a non-levy paying employer can access £8,550 of government funding towards a Level 2 Furniture Making apprenticeship which costs £9,000.
A common misconception about apprenticeships is that they are only for under 19's commencing a career. Today they are a training system designed to introduce, and qualify, people for a particular role and that role can be entry level, management, or any position in between.
The range of apprenticeships that are available is phenomenal, apprenticeships are available in almost every operational area of a business. A sample of the key industry apprenticeships such as Trade Supplier, Furniture Manufacturer, HGV Driving, Team leading, Accounting and Management (to name a few!), can be found below*.
Are you interested in apprenticeships for your team?
All businesses within the furniture and furnishings sector can access our government approved Skills Plus Approved Training Agency (ATA). An ATA is not a training provider, but rather a vehicle that can recruit and employ apprentices on your behalf. This removes many of the barriers small, medium, and micro-organisations find daunting, or do not have the resources to manage, when engaging with apprenticeships.
Below is an outline of the ATA Service delivered by Skills Plus.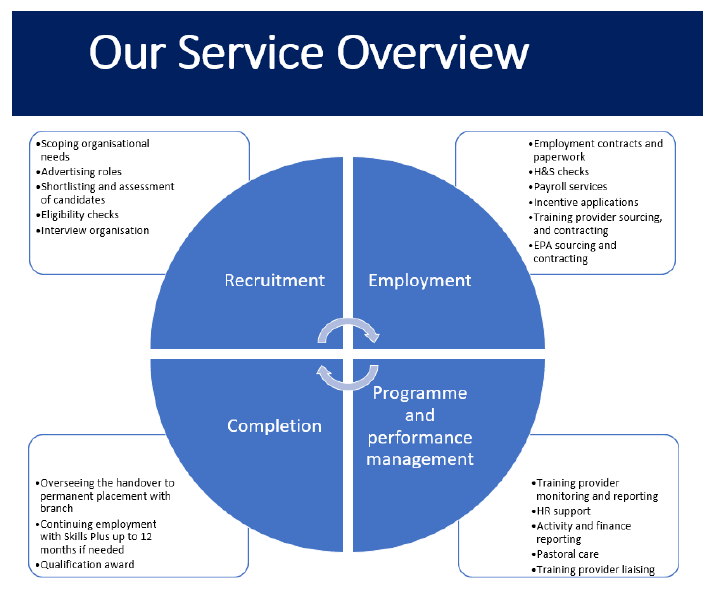 Businesses who have additional requirements and training needs such as upskilling existing employees, can also access the Skills Plus Services including:
Recruitment of eligible entry level apprentices or higher-level staff members
SME Fully Managed Service – Recruitment and Training Provider Onboarding with optional full Digital Account Support
Levy Management service – Full levy management service operated company-wide to ensure accounting, provider and EPA settlement and wide-ranging reporting suite
Assigned Apprenticeships – SME members that wish to upskill an existing employee but have reached the 3-learner cap
Registration of businesses onto the Digital Apprenticeship service and accounting structures such that access is available to all regulated apprenticeship courses and apprenticeship training providers
How can employers fund apprenticeship training?   
An SME that does not pay the Apprenticeship levy will receive Government support for 95% of the course cost.
Larger organisations paying the compulsory apprenticeship levy will use their levy contribution on the course. If levy funds are not used by an employer, then they revert to the Government – its either 'use it or lose it'.
Example – Level 3 New Furniture Product Developer Apprenticeship
Course cost: £10,000.00

Can we continue working with a preferred apprenticeship training provider? 
Yes – Skills Plus can work seamlessly with any provider to ensure access to apprenticeship training and funding.
Information for Training Providers
Skills Plus is not a training provider but works with a network of training providers to ensure the very best apprenticeship experience for employer, apprentice, and training provider. At the core of our service, is a thriving Apprenticeship Training Agency (ATA) employing 300+ apprentices across multiple apprenticeships disciplines.
As well as learner referrals and pipeline activities, we also assist partner providers with the following:
Targeted marketing
Learner cohort creation and co-ordination
Access to industry events
A centralised industry point of contact
Referrals to your short/ commercial courses
Marketing of the recent changes to SME funding
Increased funding opportunities for SMEs through the Levy-paying ATA
Please note, we do not ask for a referral fee. Our goal is simply to support Training Providers in their delivery of high-quality Apprenticeships.
Next Steps
Whether you are an employer, training provider or potential learner, please contact Carmen Daley for more information.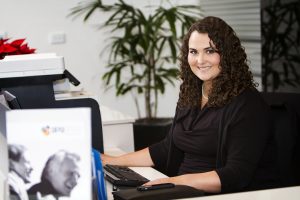 Carmen Daley
0800 644 6447
carmen@theapprenticeshipgroup.co.uk
We also welcome enquiries from schools, colleges and other organisations supporting individuals into employment.