Skills Plus is a FIESTA initiative in partnership with the Apprenticeship Management Group that will enable employers to attract, recruit and develop the skills of the next generation.
Skills Plus for Non-Levy paying Employers
With an Apprentice Training Agency (ATA) at its core, Skills Plus enables non-levy paying employers (annual payrolls of £3m or less) to access a much wider selection of funded skills training, some of which will not normally be accessible to them. It provides independent advice and guidance on the best available training provision though its training partners.
Skills Plus
Will claim funding on your behalf from the ESFA (Education & Skills Funding Agency) for up to 90% of the skills training costs.
Qualifies as a levy payer so it can recruit and employ the apprentice on behalf of the host member.
Will oversee all the administrative aspects of the apprenticeship, providing ongoing HR and training support.
Sources and contracts with training providers and funding agencies and will undertake performance management reviews.
Can apply for relevant employers' incentive payments on the host's behalf, such as the £1,000 young person employment incentive, which can be used to offset an employer's costs.
Skills Plus for Levy Paying Employers
Levy Management Service
This is aimed at larger levy paying companies (annual payrolls of £3m plus) that directly employ one or more apprentices.  While Levy-paying employers can contract directly with a training provider, the 2017 reformed system places a great deal more responsibility on the employer. The Skills Plus service takes over these responsibilities.
Skills Plus  
Will source and contract the training provider and negotiate the cost of apprenticeship training as well as the cost of end-point assessments.
Manages and monitors monthly payments to training providers and will provide comprehensive reporting.
Can claim additional learning support and employment incentives on the employer's behalf.
Can also help companies recruit suitable apprentices by placing adverts, pre-interviewing and short-listing candidates.
Will oversee all the administrative aspects of the apprenticeship, providing ongoing HR and training support and provide training progress reports.
The Skills Plus service for both levy-paying and non-levy paying employers can be used for both new apprentices and existing employees who are being upskilled.
Contact Skills Plus today
To find out how you can utilise Skills Plus to train and develop your staff, please call 0800 644 6447
Alternatively, please email:
Louise Sugers: louise@fandiskillsplus.co.uk
John Henry: john@fandiskillsplus.co.uk
Furniture & Interiors Skills Plus Apprenticeship Range
Furniture & Interiors Skills Plus can work with employers on a wide range of apprenticeships from Level 2 (GCSE) to Level 6 (Degree) and covering a wide range of subjects including: Business Administration; Furniture Manufacture; Information Technology and AAT. The below shows what is available….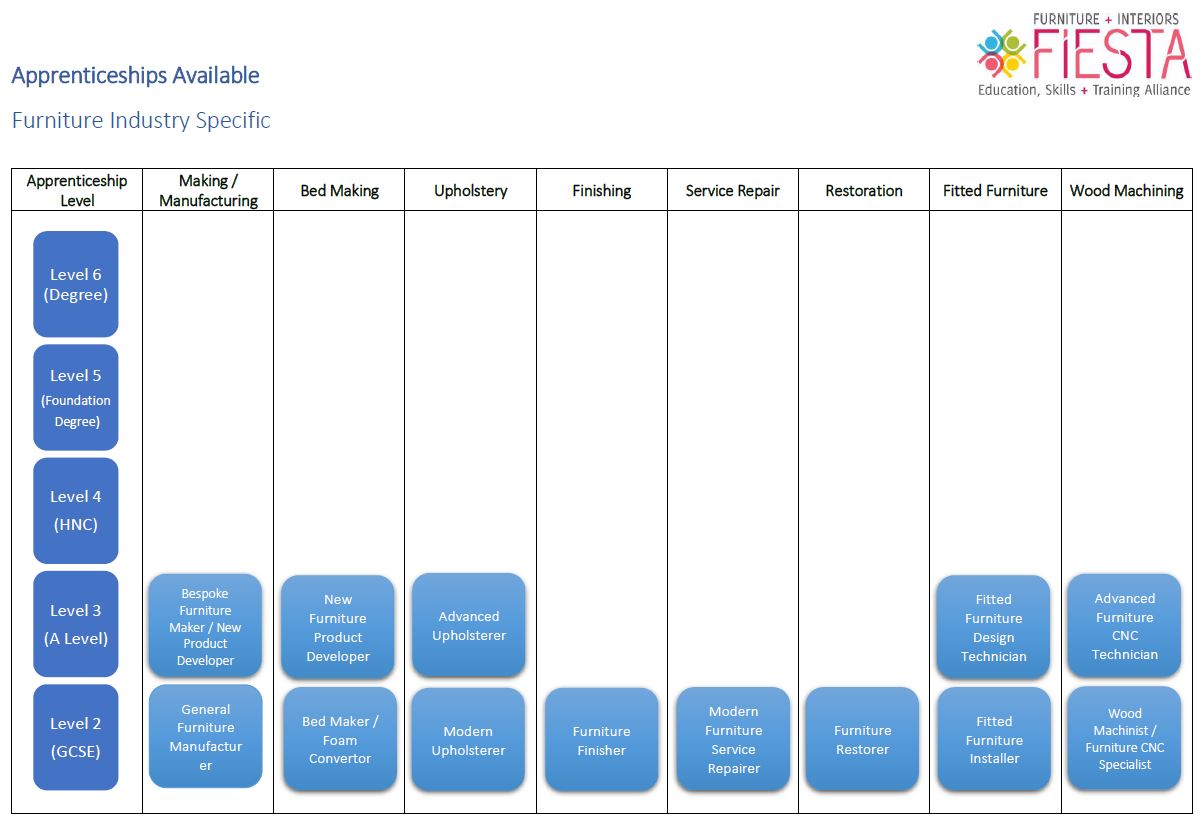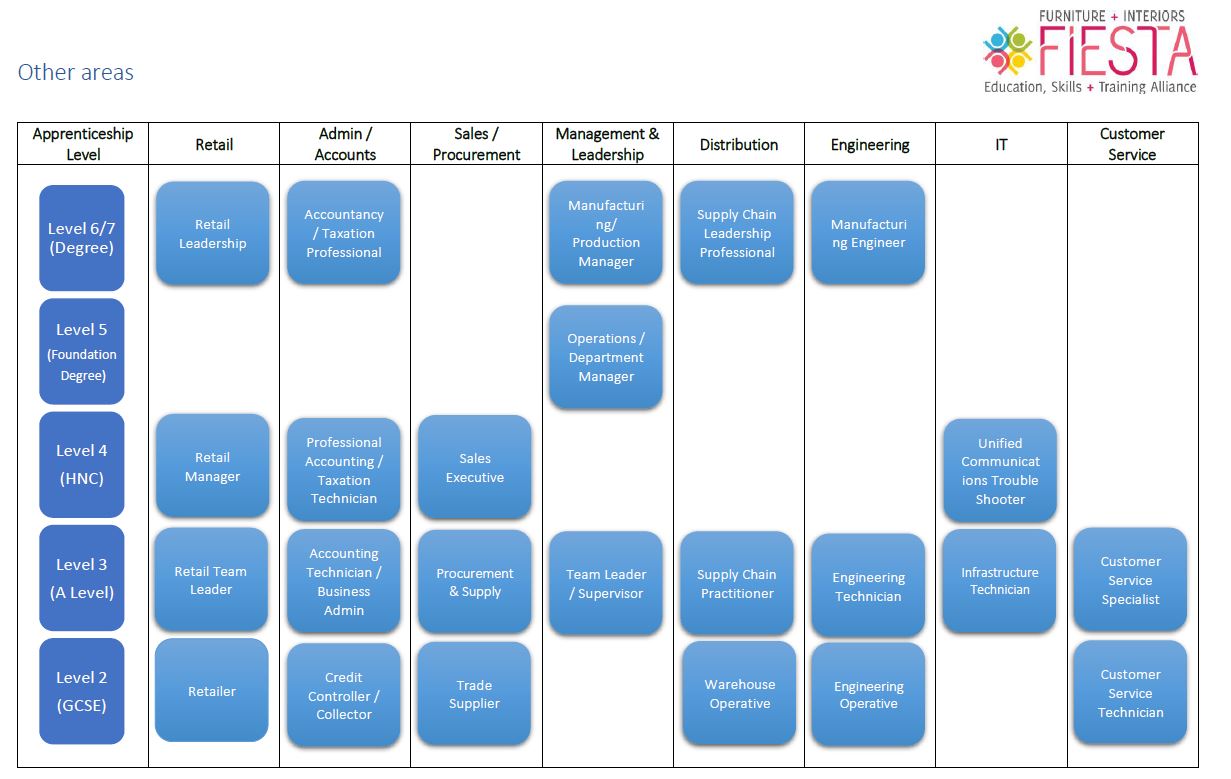 NB: This list is not exhaustive, please see: https://www.instituteforapprenticeships.org/apprenticeship-standards/