'Apprentices are investing their youth and precious years into a business. The business is duty-bound to return the level of investment. If you both want it to work, then you need to have a structured program.'
Q&A with Sean Sutcliffe, Founder and Managing Director at Benchmark
Over the last 30 years Benchmark has grown from a team of 3 people to a thriving company employing a team of 70, with workshops in Berkshire and Dorset. They work with many of the world's leading architects and designers on high profile bespoke commercial projects as well as having their own furniture collection. Benchmark's apprenticeship scheme is at the heart of their business.
We took the opportunity to speak with Benchmark's Founder and Managing Director Sean Sutcliffe and Production Director Steve Cooper about the importance of a structured approach to an apprenticeship scheme, consider the challenges which have to be overcome and celebrate the rewards which a successful scheme can bring to both a business and an apprentice.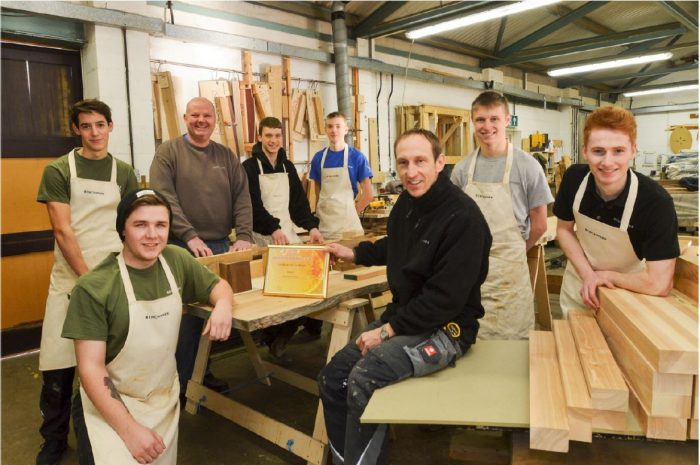 When did you first set up your apprenticeship scheme, and why did that come about?
We set it up our apprenticeship scheme 30 years ago. Previously to that I had employed graduating students but because they were invariably not local, I found that after a couple of years they would gravitate back to their home patch and start up their own workshops.
When we started the workshop here in West Berkshire there was no indigenous workforce, so we had to start from scratch. We wanted to get to a point where we could employ local people, in the fervent belief and hope that they would stay as long-term employees.
What is the current structure of your apprenticeship scheme?
Our apprentices go to Oxford and Cherwell College, some on day release and some that are on block release. We are also fortunate to have a local training provider called West Berks Training Consortium who keep an overall eye on our apprentices' general education and well-being.
In our workshop, we have a training manager who's responsible for their training needs and development needs. We've recently returned to a mentoring system, where we are pairing the apprentices with very skilled makers over three to six months.
I think the word structure is important and the reason so many small businesses fail to make a success of their apprenticeship scheme is that they have not invested in the structure. We were very lucky that quite some time ago we approached BMW and asked if we could look at their apprenticeship scheme. They shared all their knowledge on how they select, train, support, mentoring and critically their structure.
When an apprentice starts at Benchmark they have visibility of what they are going to be doing in detail from the day they start through their first year. The worst scenario that I hear of often, is an apprentice turns up on his first day at workplace, they walk in rather nervously and say, "Oh, could you please tell me where Bob is?" And Bob says, "Oh yes, yeah, right. Of course, today's the day, isn't it? Look, go over there and help Pete out for a minute, and I'll catch up later in the day." It's just not good enough.
Apprentices are investing their youth and precious years into a business. The business is duty-bound to return the level of investment. If you both want it to work, then you need to have a structured program.
How many apprentices do you have each year?
Two or three is typical.
How long does the apprenticeship last?
Four years.
What qualifications do the apprentices achieve?
In the first two years the apprentices do an NVQ Level 2 in Furniture Making, which covers processing and the manufacturing. They then move on to a Level 3 which includes technical drawing and construction design.
Do you have other key partnerships which make the scheme successful?
West Berkshire Training Consortium has been very supportive for over 30 years. They provide support for our apprentices, many of whom come from educational backgrounds in which they have struggled.
A good training provider gives additional support in basic functional skills, but they do so much more than that. Our training provider takes apprentices on team building exercises as there's a lot more that goes with an apprenticeship than just learning the skills and the trade.
We have a close relationship with Oxford and Cherwell College.
What about the relationships you have with the schools that the apprentices come from?
Unfortunately, the significance of design-technology within schools has been diminished dramatically over the past decade. Departments within schools don't receive the support and funding that they used to. We used to keep close links, but I have to say that has all but gone. So then, how do we recruit?
How do you recruit new apprentices?
We hold recruitment days which we advertise in the locally and on our website. We hold our recruitment day on a Saturday for potential apprentices and their families come along. The workshops are open, all of our current and past apprentices attend as well as our training manager and workshop manager. The idea is to inform and encourage people to think about it as a possible career.
We review applications and invite successful applicants to do work experience to explore where their capabilities are. What we're looking for is not a level of skill, we're looking the heart of a craftsmen. We're looking for people who, whatever task we ask of them, they do it to the best of their ability.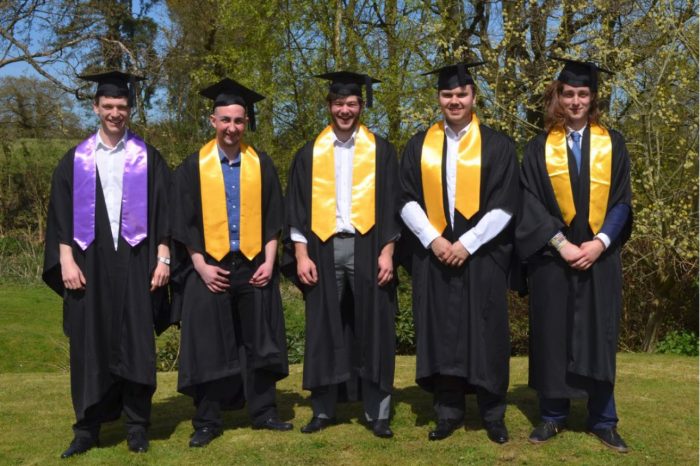 What are the benefits to your business of running this successful apprenticeship scheme?
The apprentices are our future. We're a craft business and we need craftsmen, so when I look at our cluster of apprentices, I'm absolutely looking at the future and I don't see how businesses survive who don't do this, how are they getting their people?
What have been your key challenges?
There's always the challenge of working with young adults through such an important, and changing, time in their lives. They're the teenage years, I think that 16 to 18 are tough years, emotionally, relationship-wise, within their family group. We run across the usual gamut of mistakes, but we like to think that we're very supportive and understanding.
It's also an investment. It's not cheap to run an apprenticeship scheme and in our last attempt to put a price on it we were just short of a £100,000 over four years, per apprentice.
You've got to be prepared to make a significant level of investment, in your apprentices, if you're going to get significant apprentices out at the end of it. Then, you've got to make sure that you keep them, it's a pretty serious blow if two years in, somebody decides to leave.
What do you do to retain your apprentices?
You've got to make yourself a more attractive place to work than anywhere else. We chose apprentices from our own neighbourhood and we are well positioned as there are no other workshops in the country that is doing more exciting projects than ourselves. We're working with the most exciting architects in the world, doing the most exciting projects in the world, for the best clients in the world. So why would you want to leave? We've just got to make it attractive. We've got to provide rewarding work, and of course financial reward.
Have you worked out a return on your investment?
Slightly over two-thirds of our workshop staff have come through our apprenticeship scheme. The workshop is the beating heart of the business. Most of the muscle of that part is made up of our apprentices.
People who have grown up here within our culture understand our values. They understand our standards, and they're proud. So, you get a level of return that might be higher than somebody for whom this is just another workshop in a series of workshops they might have worked in. That said, we also do bring in outside skills because otherwise we might all get a little bit too introspective.
Is there anything that you would like to say about your apprenticeship scheme?
I profoundly believe that the value within a society and our economy of artisanship is a very high value, and one that is undervalued considerably in this country. I look at the apprentices that we have here, and they're super high achievers. We're turning out the highest standards of craftsmanship, not just in our locality but in Europe and that's down to those guys. I think that if an apprenticeship is a good one, is properly run and properly valued by the business, then it is in no way a second-rate choice to a university education.
Benchmark Apprentices
An apprenticeship to me was the best approach in life as I was able to learn new skills in a trade whilst earning. Since I started my apprenticeship, I have gained confidence in myself due to the social interaction with the team at Benchmark. I have also learnt new 'on the job' skills which you wouldn't achieve without taking this career path. Tom Fishlock. 3rd year apprentice.
I believe that doing an apprenticeship is the best possible thing to kickstart your career. During my journey I have learnt a variety of skills in the trade which are essential when I am a fully qualified employee. Also, this is going to give me a skill for life. Apprenticeships are an amazing opportunity to learn a skill whilst being paid. Mathew Rawlings. 2nd year apprentice.
I didn't enjoy school, so doing an apprenticeship was a better option for me. I did enjoy wood working so it was an easy choice to do a furniture making apprenticeship which Benchmark offered. I have been at Benchmark since 1996 and in that time, I have worked on some fantastic projects for all over the world. I have taken up the position of Training Manager, so I am able to help others follow in my footsteps and help support the apprentice's progression. Kelvyn Dennis. Training Manager.